There has been great excitement surrounding the recent opening of Crystalbrook Kingsley in Newcastle's CBD, and rightly so.
It is the city's first five-star hotel, after all, and has transformed the former council administration centre into a sustainably-considered, 130-room luxury destination.
Groundfloor cafe Ms Mary and top-floor bar Romberg's opened to the public on June 9 and the Roundhouse restaurant opens today.
The executive chef is Natalie Bolt and she has worked in five-star resorts across Turkey, Dubai, Indonesia and Thailand.
"Her specialty and passion lies in working with native Australian ingredients and this is being served up in spades at Roundhouse," a Kingsley spokesperson said.
"Diners can expect beautiful seasonal produce whereby 80 per cent of it is sourced from within a three-hour drive of Newcastle. We have duck from the Hawkesbury, seafood from Port Stephens and meats from the Hunter Valley."
How about a teaser from the much-anticipated menu?
"Diners can get excited about the paperbark-baked whole market fish. We are working with a local supplier who line catches the fish daily for Roundhouse. This is served with a native sunrise lime pickle and harissa duck fat potatoes. Natalie and the team have also worked hard to create a menu that is inclusive of all dietary requirements and preferences, like our mushroom and wattleseed dumplings with yuzu, lotus root and garlic crisps that is a completely vegan dish, absolutely packed full of flavour."
Excited? You should be. I know I am.
As revealed in Saturday's Newcastle Herald, award-winning author and presenter Tracey Spicer AM is hosting the inaugural Hunter Writing and Wine Weekend at Wandin Valley Estate this September.
It's the brainchild of Spicer and her close friend, Wandin general manager Manda Duffy.
Wendy Harmer, Peter FitzSimons and Lyndey Milan OAM are among the authors, broadcasters and performers who will be at Wandin on September 11 and 12 for a weekend of writing, reading, meditation, bush walks, comedy performances and "in conversations".
"Tourism and hospitality operators were the first to be hit by the pandemic and are among the last to recover," Duffy said.
"There's pent-up demand from people keen to create special memories with loved ones, while reflecting on the year that was.
"Tracey and I have been friends for almost 35 years. Some of our best times have been spent sharing a glass of wine and a lovely meal, and discussing the day's headlines. We're excited to be reopening a tourist experience with a fresh face, combining two of our great loves: wine and words."
Ticketing details and cost to be advised.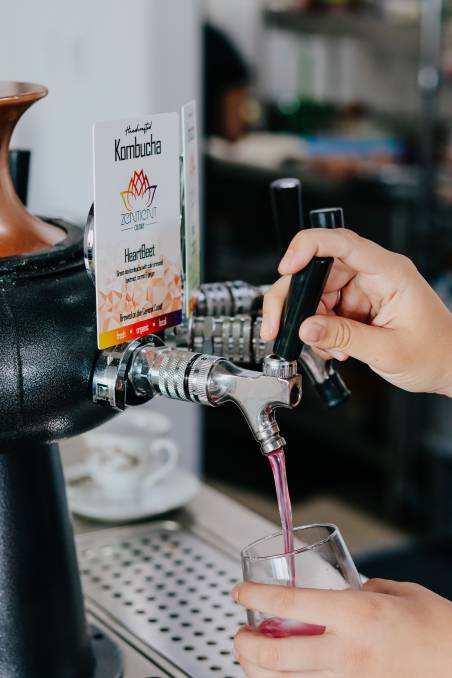 Cassowary Cafe has opened on the Pacific Highway at Belmont, just down the road from another new cafe, The Wise Owl.
It's eco-friendly and ethical and is owned and run by Ron and Steph Game, who share a passion for the environment – and the cassowary. You know, the flightless Australian bird with a large horn-like helmet, or casque, on its head? Ron and Steph are committed to doing what they can to protect the species and its habitat, the Daintree Rainforest.
They do what they can to raise money for Rainforest Rescue, a not-for-profit organisation that's been protecting and restoring rainforests in Australia and internationally since 1999.
The cafe's interior has a distinct rainforest feel.
Ron spent 12 months learning to roast and brew coffee prior to his retirement, with a view to starting a roastery. He ended up opening a cafe instead. His vision was to create a welcoming, inviting space for the whole community that served up a wide range of quality, ethically and sustainably sourced coffees alongside specialty teas from Pekeo Valley Tea.
They also offer Nitro teas on tap and by the can; Nitro Cold brews; kombucha; and an extensive breakfast and lunch menu. Baking is done in-house or sourced from My Family Bakery at Maitland.
"Our heart and soul is looking out for the environment, and here we choose to support the iconic Daintree Rainforest and the cassowary," Ron said.
"We believe we are a new wave in the evolution of cafes – no discrimination, specialty teas, no tea bags, and a range of coffee blends and cold brews, real cold brews rather than an espresso on ice or iced tea full of sugar."
Artisan chocolate to your door
Chocolaterie Fenelon has closed at Warners Bay but never fear! Melanie Fenelon is still making artisan chocolates by hand, from scratch, and is also working on an online teaching module. She is putting the finishing touches to her website and orders will be taken soon (local delivery will be free for orders in excess of $ 15).
Dalwood Estate is hosting the Hunter Events Bar and BBQ Festival on July 3 and 4. There will be live music, BBQ cook-offs, local breweries, a kids' zone, food trucks, helicopter joy rides, market stalls, a car show and the Aussie FMX Freestyle Motocross crew. Tickets at oztix.com.au.
Our journalists work hard to provide local, up-to-date news to the community. This is how you can continue to access our trusted content: