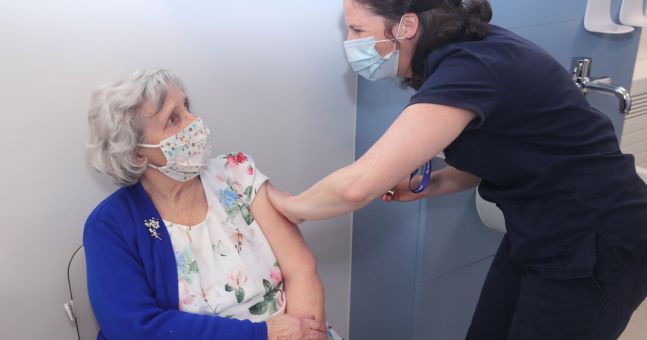 Ireland will hit 500,000 COVID-19 vaccine doses administered this weekend, after vaccinations began 63 days ago with Dubliner Annie Lynch.
In a video posted to his Twitter account, Taoiseach Micheal Martin said that he was "inspired by the optimism and hope of the people both getting and giving the life-saving doses."
"Next week, we will begin to vaccinate those with underlying health conditions, as well as continuing to vaccinate the over 70s and healthcare workers.
"[The vaccines] are reducing the impact of this virus and this can be seen in the reduced levels of infection in our nursing homes and amongst our frontline healthcare workers."
"The 14-day incidence level fell below 200 this week for the first time since Christmas.
Advertisement
Last night, the HSE confirmed that 102 are in ICU as of 8am, compared to 107 the day before, after 522 new cases of COVID-19 were confirmed in Ireland.
Latest figures showed the 14-day incidence rate per 100,000 of the population now stands at 185.1.
An update on our #CovidVaccine rollout. #holdfirm pic.twitter.com/E8xcaFpHCx

— Micheál Martin (@MichealMartinTD) March 6, 2021
Yesterday, it was revealed that gardaí have issued 11,573 fines to date for breaches of Covid-19 regulations.
Gardaí had issues 9,021 fines of €100 to people undertaking non-essential journeys, as of Thursday evening.
Protesters are set to gather, calling for an end of lockdown restrictions, in Cork city centre, on Patrick Street, later today.
Advertisement
Cork City councillor Damian Boylan told the Irish Daily Mirror, that there was potential to see a repeat of scenes from the protest in Dublin last weekend.
"I think the vast majority of people are appalled by this event, the vast majority of people are concerned about this pandemic, and they are grateful to the people putting their lives on the line every day to help us," he said.
Dublin TD Neale Richmond has already called for the rally to be banned – after the arrest of 23 people and the hospitalisation of several Gardaí in the capital last weekend.