Getting totally rid of the coronavirus isn't likely, so we humans must accept the fact that SARS-CoV-2 will be endemic.
The economic and healthcare system impacts of this were explored in the Post-Covid Healthcare Landscape, delivered by Fitch Solutions' Jamie Davies and Beau Noafshar, leaders in the Pharmaceuticals, Healthcare, and Medical Devices groups. I welcomed the opportunity to learn from this team's approach in weaving together the dynamic issues that help us to plan for the long-tail of COVID-19 and its impact on the economy and prospects for the health care industry and health citizens.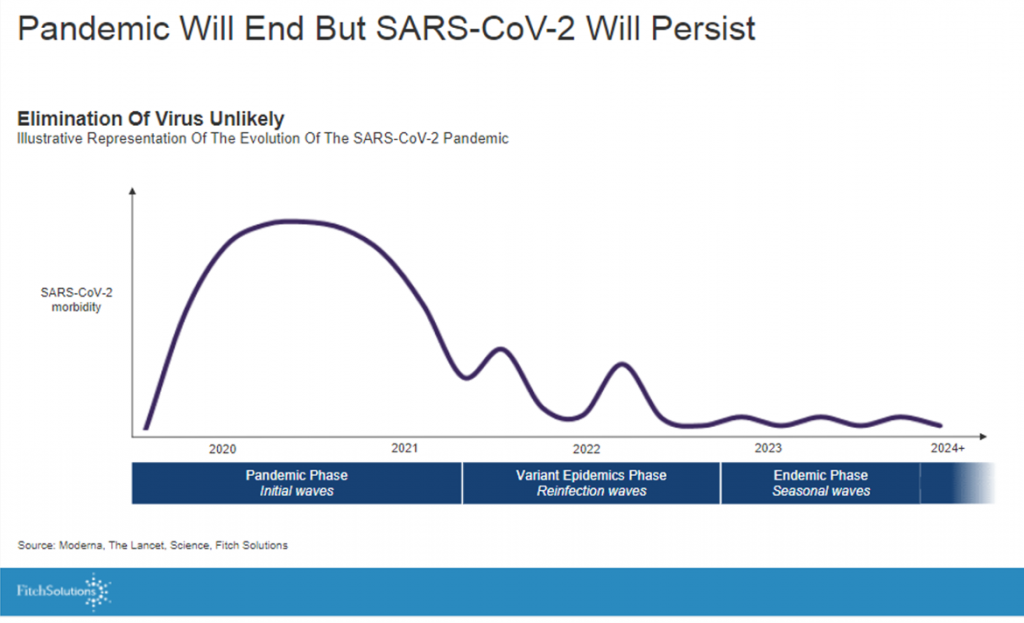 The first graph illustrates the forecast that, while the pandemic will "end," the virus is entering an endemic phase with seasonal waves to be expected.
Translation: watch out for winter and flu season, especially if people don't re-mask and take care to protect themselves and others — particularly important in geographies where more folks have opted out of getting vaccinated.
To that point,
"Analysis of the ends of epidemics illustrates that epidemics are as much social, political, and economic events as they are biological, the 'end,' therefore, is as much a process of social and political negotiation as it is biomedical," wrote Charters and Heitman in their essay, How epidemics end, quoted by the Fitch team.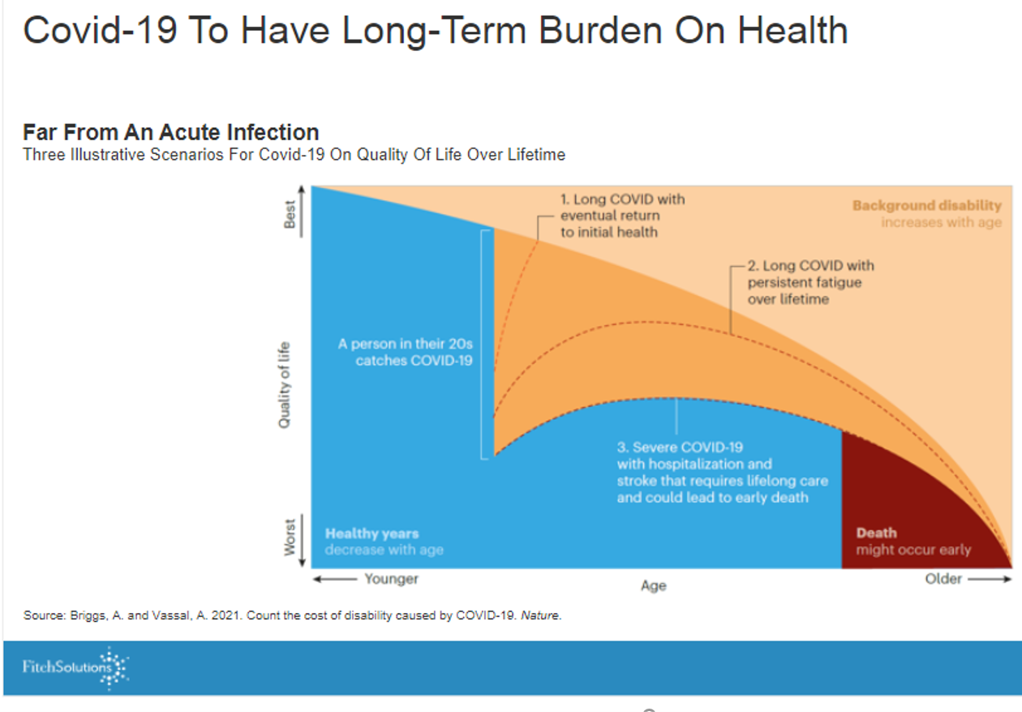 On the pharma supply side, mRNA vaccines will dominate the market, proving more effective than others at stemming a further outbreak. With growing global supply and competition, we can expect prices for COVID-19 vaccines to fall, anticipating additional volumes from Sinopharm, Moderna, Sinovac, Gamaleya Institute, among others.
In the larger public and population health context, on the patient side, we can expect the burden of disease beyond COVID to increase due to postponed care and treatment backlogs.
This has been found to be the case in the U.S., for example, for heart disease and cardiovascular complications as well as for cancers. Fitch presented data for the UK National Health Service demonstrating the same trajectory of pent-up disease treatment for orthopaedics, ophthalmology, dermatology, cardiology, and other areas. The forecast is that these backlogs could persist "for years" in the NHS.
To be sure, COVID-19 will drive a long-term burden on health, the second chart illustrates based on several models playing out the coronavirus's impact on a patient's life over a lifetime.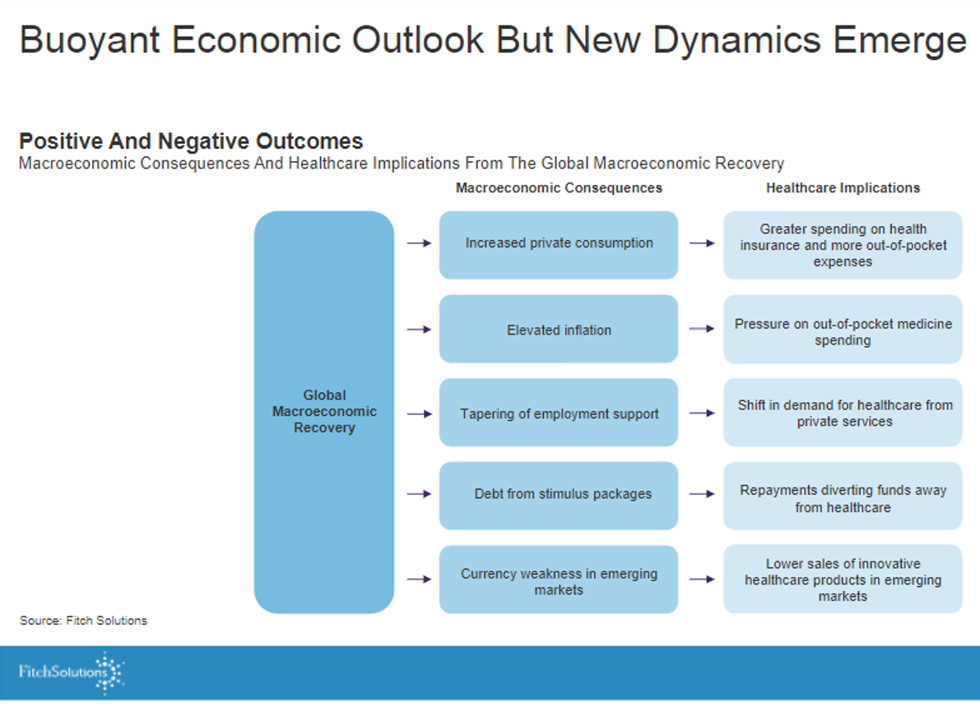 The economic outlook through the pandemic lens and endemic aftermath has several moving parts to it: the specter of inflation which will be concerning for healthcare stakeholders (whether hospital purchasers of goods and services, pharma in terms of pricing, health plans in terms of pent-up demand for services and more acute cases presenting to providers, and for patients themselves who may face higher out-of-pocket costs depending on which country they live in).
The third chart details some of these points:
On the macroeconomic side of the forecast, we see increasing private consumption, higher inflation, less public sector support (e.g., PPP in the US), and in emerging markets, currency weakness.
On the microeconomic side for healthcare, we can expect greater spending on health insurance and out-of-pocket costs, pressure on pharma prices, more public health care demand (in the US, pressure on Medicaid rolls and State governors' budgets), and a potential barrier to paying for innovation especially in emerging markets hard-pressed to fund COVID vaccinations and care.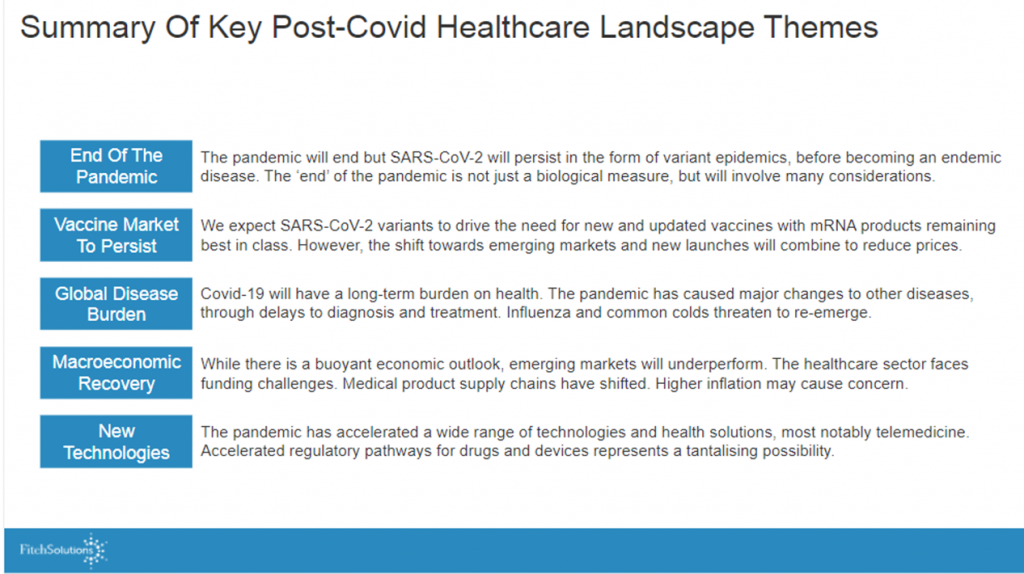 Health Populi's Hot Points: Putting all of these findings together, Fitch gives us this summary to carry with us into our planning and forecasting toolkits.
The last point on "new technologies" begs the question, "who" will fund innovation in health care as we emerge from the pandemic with national economics growing back at different paces, and employment in a very different context than pre-pandemic.
While telehealth and virtual care stood up quickly in 2020, questions remain about how it will/can persist in terms of funding, regulation, and business models.
We also expect innovation to come out of pharma and biotech labs, and who will pay for new-new therapies? The current case study to watch on this is the introduction of Aduhelm for Alzheimer's, which has already led to the resignation of three FDA commissioners protesting its approval, and a litany of mass media channels covering the story of a new $ 56,000 drug at list price for a condition for which American families (and families all over the world) demand a treatment.
For Medicare Part B programs alone, the drug could consume one-half of the total $ 57 billion of medicines spending….as much as the U.S. spends on NASA.
The economic impacts of COVID-19 will impact how health care spending, and spending for families and households, for some years to come.