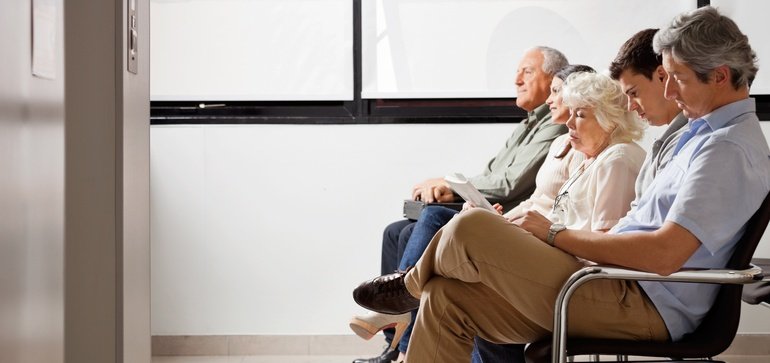 Dive Brief:
A new study of one the nation's busiest public hospitals in the Western Journal of Medicine concluded that COVID-19 led to a massive drop-off in emergency department visits during the first few weeks of the pandemic.
A second survey by researchers at The Commonwealth Fund found that COVID-19 also interfered with Medicare enrollees' access to healthcare services, and a majority are managing multiple chronic health conditions.
The new data suggest that providers still have a substantial way to go toward achieving pre-COVID-19 levels of normal encounters with their patients.
Dive Insight:
COVID-19 has been among the biggest disruptors to healthcare delivery the United States has ever encountered. Now a year into the pandemic, academic studies are making its actual impact clearer.
A study of Los Angeles County-USC Medical Center's emergency department conducted by the USC Keck School of Medicine found that ED visits slowly but steadily plummeted after state and local officials issued stay-at-home orders. It compared patient data from between January and May of 2018, 2019 and 2020.
Although the first nine weeks of ED volume were essentially unchanged from 2018 and 2019, volumes began to sink quickly after that. ED volumes dropped 50% in week 16 compared to week 11, and they were down 38% from 2019 from weeks 10 through 18.
The reductions were uniform across the various geographies where patients come from to visit the hospital. Inpatient admissions also fell dramatically, dropping 38% by week 15 compared to week 11 of California's stay-at-home order.
The only area where demand increased in the ED was among patients who sought care due to a COVID-19-related respiratory disorder. Such cases also led to a higher rate of admissions compared to 2019 and 2018.
Those patients who sought care in the ED during those weeks were significantly older and more likely to lack insurance than in the prior years. Younger, healthier and insured patients were more likely to avoid the ED. "These patients may perceive that they can safely self-treat symptoms at home or wait to have chronic conditions managed," the study's authors observed.
The Commonwealth Fund study found Medicare recipients with chronic conditions like chronic kidney disease and hypertension were 50% to 80% more likely to be hospitalized for COVID-19 than those without those conditions. Yet 34% of Medicare beneficiaries have been unable to access regular medical care as a result of the pandemic.
Two-thirds of those enrolled in Medicare but not Medicaid have at least two chronic conditions.
Even as vaccine distribution continues at a significant clip and COVID-19 cases are dropping dramatically, the study noted that "Medicare beneficiaries with chronic conditions may continue to face barriers to disease management. Even before the pandemic, U.S. hospitals were often running near full capacity, and it is unknown how rapidly the health system may be able to meet the pent-up demand for medical and surgical care."
The USC study seemed to sum up the situation succinctly: "what remains to be determined is what the medium- and long-term impact of this strong reduction in utilization means for patient outcomes, disease control, and the health of the community," it concluded.