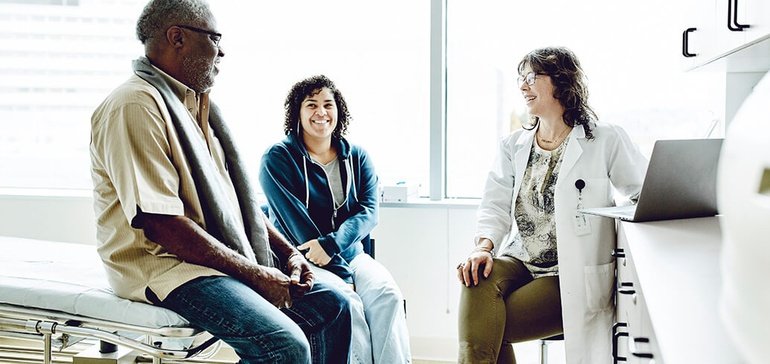 Dive Brief:
About half of physicians and even more patients said the U.S. healthcare system discriminates against people a great deal, a good amount or somewhat, according to a survey out Tuesday from the nonpartisan research group NORC at the University of Chicago.
Patients' trust in their primary doctor rises with age and income, though 12% of respondents said they have been discriminated against by a healthcare facility, and Black patients were twice as likely to report being discriminated against than White patients, the report found.
But 81% of physicians gave their employers either an A or B grade for their efforts to address health equity, and said they're optimistic their system will improve diversity and equity in the next five years.
Dive Insight:
The COVID-19 pandemic laid bare stark inequities in the country's healthcare system, evidenced by virus cases, hospitalizations and deaths all occurring at higher rates among patients of color.
This latest NORC survey is part of a series on rebuilding trust through the American Board of Internal Medicine Foundation, and follows a May report that found physicians and patients both lost trust in the healthcare system during the pandemic. In that report, consumers said they generally trust doctors and nurses more than they trust health systems.
But when it comes to diversity and discrimination, the way physicians view equity improvements varies widely from the way their patients see it, according to this latest survey.
NORC used two surveys: one among 600 physicians and another among over 2,000 consumers with oversamples for Black, Hispanic and Asian respondents conducted in January and February.
Black patients reported discrimination by a doctor at the highest rate (21%) followed by Hispanic patients (11%) and Asian patients (8%).
Those groups were also less likely to report that their doctor performs trust-building behaviors. While 86% of White patients said they believe their physicians trust what they say, just 76% of Black patients and 77% of Hispanic patients agreed.
In contrast, fewer physicians than patients said they feel the healthcare system is discriminatory, and a majority of physicians gave their employers a passing grade for their efforts to address inequities.
And 62% said they expect their own system will improve equity in patient outcomes in the next five years.
But fewer (56%) said they believe diversity in the physician workforce will improve over the next five years, and even less (49%) think diversity in health system leadership will improve.
Richard Baron, CEO of the ABIM Foundation, said the findings underscore the importance of rooting out systemic racism wherever it is felt, as "any form of discrimination fuels mistrust between patients and the health care system patients rely on to treat them."
He further called on healthcare stakeholders to "collaborate to identify and address contributors to bias, which worsen health outcomes, especially for people of color."