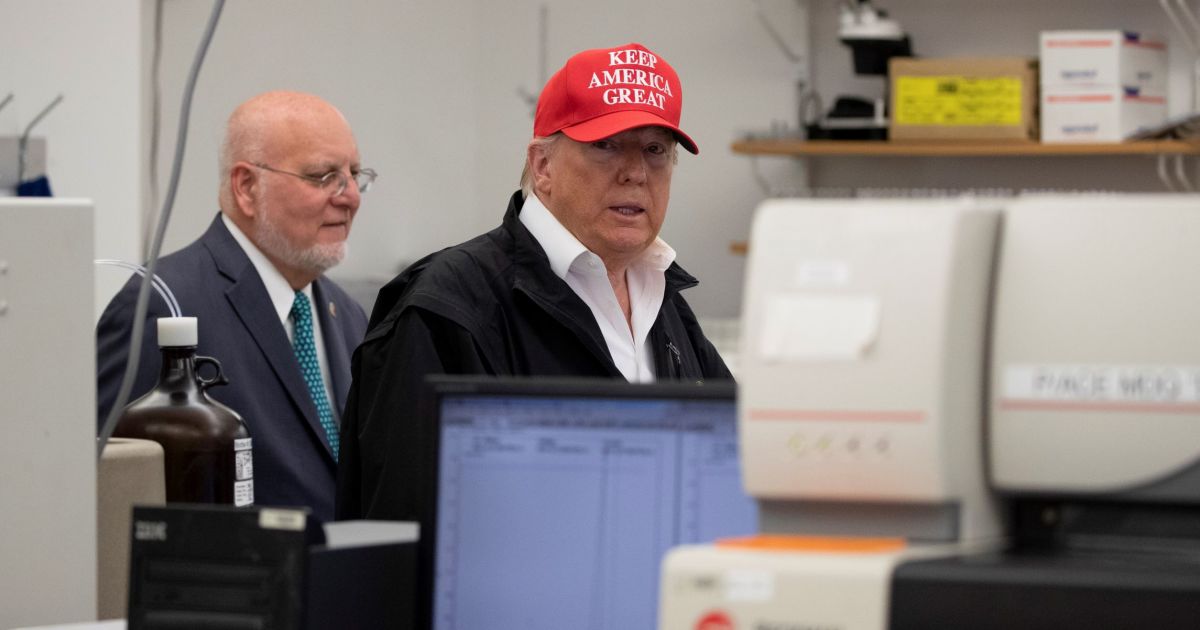 President Trump's most senior health officials leaped to his defense against allegations that he mishandled the COVID-19 pandemic, insisting that he based his decisions on the best scientific advice and saved lives.
Trump has been under intense pressure ever since it emerged in Bob Woodward's book Rage that the president knew the virus was airborne and highly contagious, even as he sought to reassure the public that its risk was limited.
The result was a slew of claims that he lied to the country and failed to meet the basic responsibilities of his office.
On Friday, Politico also claimed that political appointees at the Department of Health and Human Services sought to review and, in some cases, alter weekly COVID-19 reports.
However, his secretary of health and human services and the director of the Centers for Disease Control and Prevention both told the Washington Examiner that Trump had used up-to-the-minute evidence to make crucial decisions.
CDC Director Dr. Robert Redfield said in a statement, "President Trump has sought the counsel of the White House task force doctors throughout the COVID-19 response. He has relied on the data and science, presented to him at that time, to make decisive decisions to protect the health and safety of the American people."
Woodward's book revealed a president intent on offering the public an optimistic view of the path of the virus, even as he described in private the threat of the coronavirus.
Excerpts published earlier in September outlined a call on Feb. 7 with Woodward in which he said, "You just breathe the air, and that's how it's passed. And so, that's a very tricky one. That's a very delicate one. It's also more deadly than even your strenuous flus."
He repeated the line for emphasis: "This is deadly stuff."
Days later, he offered a more positive line in public.
"I think the virus is going to be — it's going to be fine," he told Fox Business.
Experts in crisis communication say honesty and accuracy are crucial tools in public health emergencies when trust is essential, leading to questions about why Trump was saying one thing in public and another in private.
Democratic presidential nominee Joe Biden said the president misled the people of the United States.
"He knowingly and willingly lied about the threat posed to the country for months," he said in Warren, Michigan.
However, key officials insisted Trump had access to the best advice and had saved lives.
HHS Secretary Alex Azar said, "As the secretary of health and human services, I have briefed President Trump alongside the nation's top doctors, and I have insisted that he have direct access to these doctors throughout the COVID-19 pandemic.
"He has always been receptive to the data and science presented by me and other members of the task force. President Trump's science-based decision making has saved lives."
For his part, in recent days, Trump said his aim was to prevent panic.
"They wanted me to come out and scream, 'People are dying. We're dying,"' he told an audience at a rally in Michigan. "No, no, we did it just the right way. We have to be calm. We don't want to be crazed, lunatics. We have to lead."